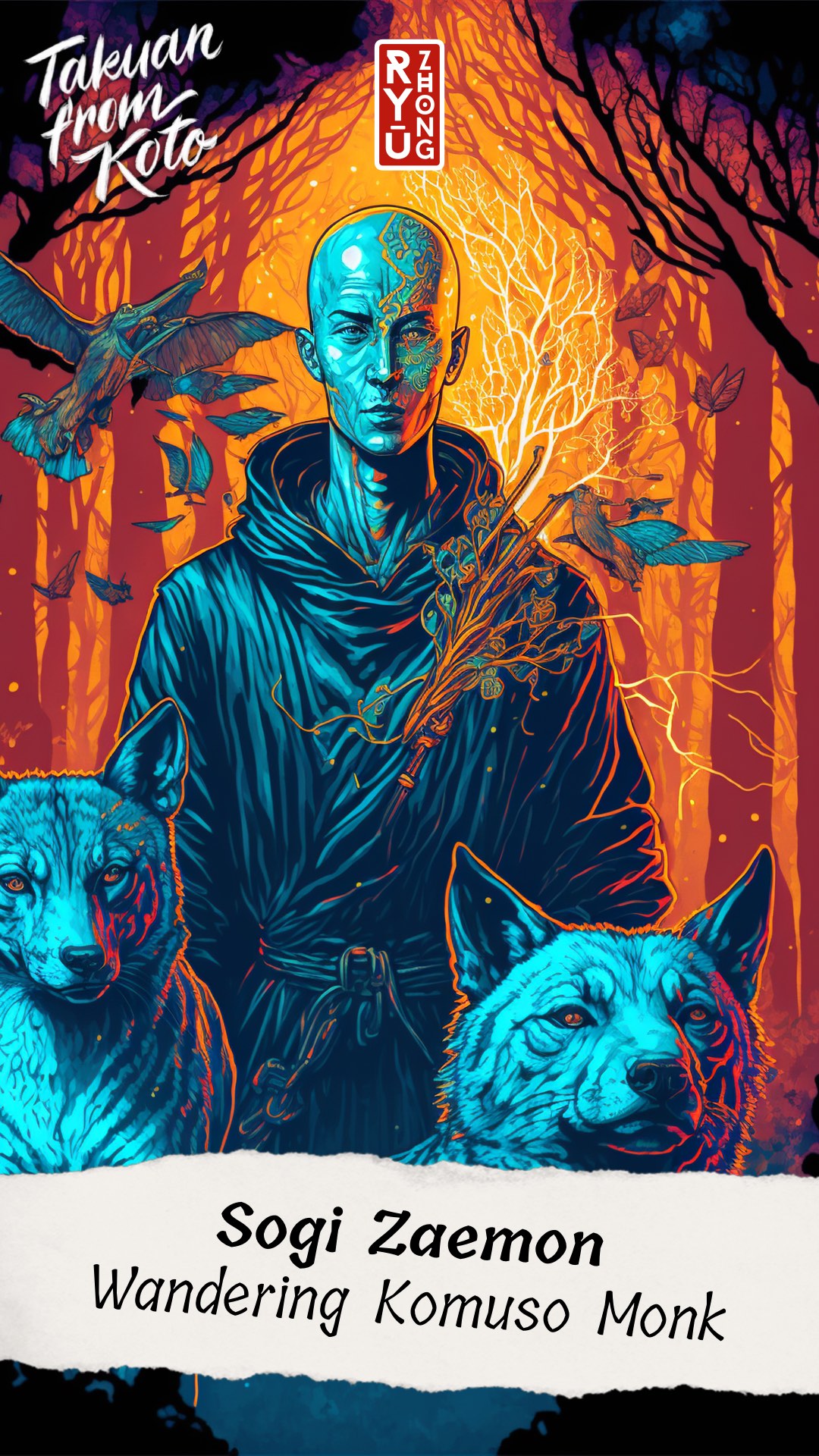 Sogi Zaemon — that's the name of a wandering komuso monk who traveled through Chinayindu in search of weredemons. He was accompanied on his journeys by two large wolves: one white as the first snow, and the other gray like roadside dust.
The early life of Zaemon remains mostly unknown to the readers of 'Takuan from Koto.' We will only say that he encountered many hardships, and among them was parting with his beloved.
¶ Wolves of Zaemon and Vow of Silence
Zaemon did not speak of his troubles to anyone, as he had taken a vow of silence in his monastery. During a sacred ritual, two wolves appeared to Zaemon, and since then, every word that came out of his mouth was destined for them. Only once did Zaemon reveal his secret, and it was a difficult task for him. However, an even greater challenge for the monk was to endure the chatter... Whose?
If you want to find out whose chatter the silent Zaemon could not bear, read the second book of 'Takuan from Koto' titles 'Hunters of Weredemons.'
This monk was called Sogi Zaemon. He was from the same region as Takuan, and spent his postulancy in the same monastery of the White Mountain.
Fate so decreed that Zaemon himself did not linger on the White Mountain. He had left the monastery and from then on wandered all over Chinayindu, accompanied by his wolves, one as white as winter fog, and the other as grey as roadside dirt. With the help of his sharp shakuhachi flute, Zaemon defeated the demons that he met on the way.
Following the wolves, a wandering komuso monk stepped into the courtyard. On this monk's head was a patched straw hat with an eye slit. The monk held a shakuhachi flute in his hands. Made of cane, the flute had an unusually long steel mouthpiece that was sharp as a knife and shimmered in the moonlight as if it contained the magicks of the celestials. With a slow tread, the monk walked around the yard, paying no attention to the frozen sorcerer, who still had yet to come to his senses.