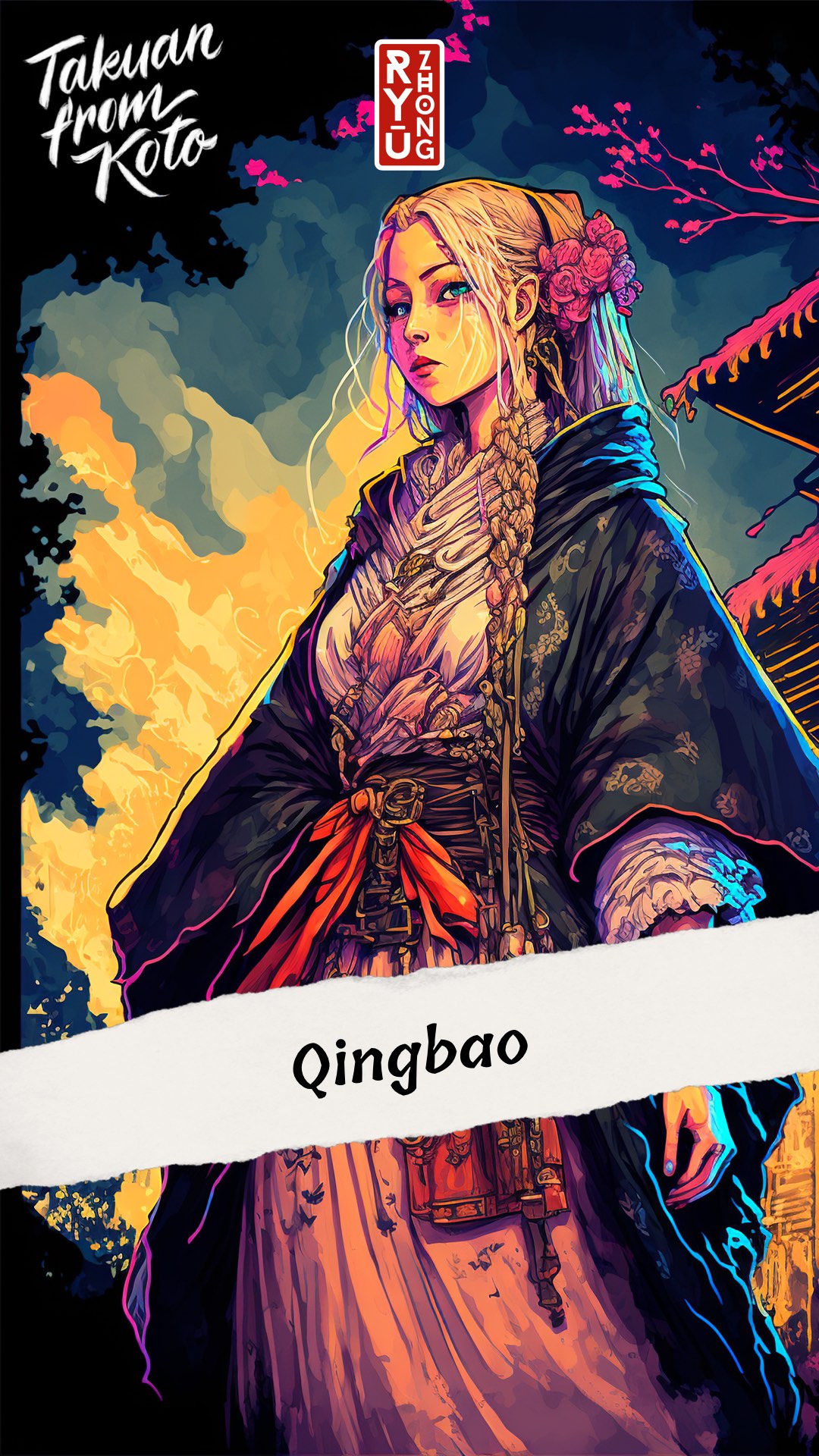 Zaemon's Beloved
The true identity of Qingbao, the one who captured the heart of the wandering komuso monk named Sogi Zaemon, remains a mystery. Fate led Qingbao and Zaemon on separate paths, and it took a considerable amount of time before fortune smiled upon the lovers.
Another fortunate coincidence was Qingbao's striking resemblance to the late mother of Duke Bao-Zhu. Thanks to this, Qingbao found herself as a guest in the duke's residence. It was in this garden that something happened, making the duke, perhaps for the first time in his dukey life, regret the size of his belly.
The resemblance stemmed from the fact that both Qingbao and Prince Bao-Zhu's late mother had wonderful golden hair, a rarity in the land of Chinayindu. Her green eyes sparkled like large emeralds, and her hands shone with such whiteness as if they were made of rice paper. It is not surprising, therefore, that the komuso monk gave his heart to the beautiful Qingbao.
To learn about the final encounter between Qingbao and Zaemon, read the third book of 'Takuan from Koto' titled 'Envoys of Celestials.'
"Venerable Bao-Zhu," said the cook. "Never yet seen and wondrous events today in the market happened!"

Wondrous events had happened in the castle as well, so Bao-Zhu was not at all surprised.

"What was there?" he asked without much interest.

"Just you imagine, venerable Bao-Zhu. What I saw today," the cook began in a roundabout way, but then he saw the displeased dukely face and decided to get to the point. "Jun Qing! Your venerable father's first wife."
As soon as they descended from the monastery mountain, they met a maiden whose eyes shone emerald green. She was dressed very modestly, and was already covered with a layer of road dust.

The maiden was first noticed by Zaemon, who immediately rushed to embrace her. Both his wolves joyfully jumped around. Then the monk took the maiden by the hand and led her to his companions.
Qingbao glanced at Zaemon and squeezed the monk's hand tightly. Zaemon's eyes gleamed through the hole in his hat. It was clear that the maiden and the monk were bound by long-standing feelings.

"They must have known each other before Zaemon's postulancy," Sung-Guan resolved, and did not ask further questions. Leizu's words surfaced in his mind: "The monk is looking for someone named Qingbao."